DEPOT 02 – GALUDUPITA
McLarens Containers (Pvt) Ltd., an ISO 9001:2015 Quality Management System Certified Company and a pioneer in Inland Container Depot operations in Sri Lanka since 1979 established its second Depot Facility (DEPOT 2) in 2021 to cater to its expanding portfolio of prestigious clients.
Strategically located in close proximity to the Colombo – Negombo Highway and Colombo – Katunayake Expressway DEPOT 2 boasts of 3 acres of paved land with a capacity to store 1500 – 20' equivalent units, stacked 5 high.
DEPOT 2 provides 24×7 day operation in Container Handling, Container Storage, cash collection for Cleaning/Repairs, Demurrage collection on behalf of Shipping Lines and Dry and Reefer Repairs, Container Cleaning Washing, Pre-Trip Inspection (PTI) to major Shipping Lines, NVOCC Operators, Reefer and Dry Special Operators.
Our fully equipped Container Repair Facility could accommodate 24 TEUs at a time and two wash bays can handle Water, Steam and Chemical washing of 20' and 40' containers to meet the stringent criteria of Shipping Lines and International Container Leasing Companies worldwide.
State-of-the-art handling equipment including Empty Container Handlers, Forklifts, Prime Movers, and Trailers ensure a definite first-in / first-out stacking configuration, while our computerized Yard Management System keeps customers always updated of the status of their inventory. Our facility is equipped with security, a 125 KVA backup Generator, high bay lighting and CCTV monitoring system.
ISO Quality Management System Certified!

DEPOT SERVICES
McLarens Container DEPOT 2 offers storage, inspection, cleaning, and repair facilities for empty containers. As Agents for Carrier Transicold, we specialize in reefer machinery and structural repair, reefer pre-trip inspections (PTI) and reefer cleaning.
Located 8 kilometers from Colombo in close proximity to the Colombo Sea port, principal airport and Free Trade Zones, McLarens Container Depot 2 has easy access to the E1 Express Way as well as to the Colombo / Negombo main road.
With a storage capacity of 1500 TEUS, IICL qualified Container Surveyors and 5 container handlers with 5 high stacking capability, McLarens Container Depot 2 is one of the leading service providers to shipping lines in Sri Lanka.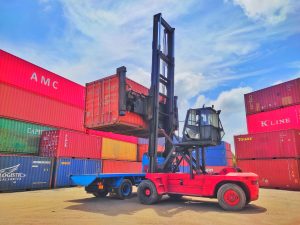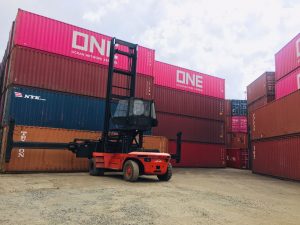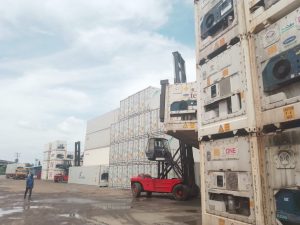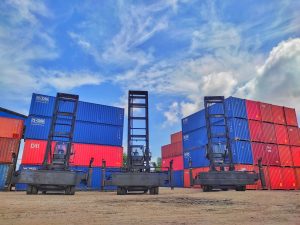 CONTAINER REPAIR SERVICES
Our covered workshop can accommodate 24 TEUs and operates 24×7 to facilitate uninterrupted container repairs even in times of adverse weather conditions. Moreover, there are dedicated washing bays alongside the workshop which are capable of washing 40 TEUs at any given time, offering high pressure, steam clean and chemical wash facilities for both dry and reefer containers.
Qualified Welders, Fabricators and Painters are part of our dynamic work force. We ensure that high quality repairs, container upgrades and reefer structural repairs are carried out using genuine container spare parts such as treated floor boards, corrugated panels, door hardware and marine paints.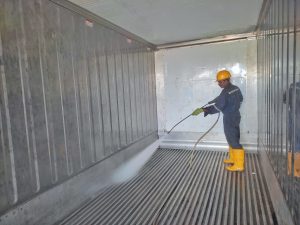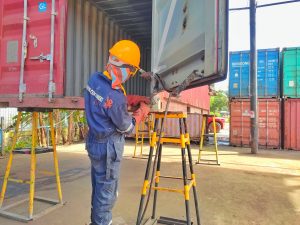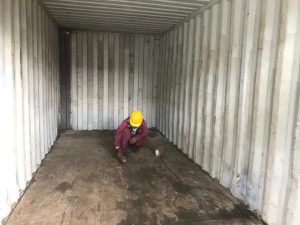 REEFER CONTAINER SERVICES
McLarens Container DEPOT 2 offers structural and machinery inspection, Pre-Trip Inspection (PTI), data download, and software upgrade for reefer containers. As an appointed Carrier Transicold Repair Centre we are maintain a reefer service area with 12 Nos. reefer plugging points, a 125 KV stand-by generator together with a qualified team of reefer Technicians to offer a superior service to our customers.
Additionally, we maintain an adequate stock of Carrier, Star Cool, Daikin and Thermoking reefer parts for both customer repairs and units under warranty. Being an ISO certified company, our processes are periodically monitored to ensure consistency in the quality of service provided to our customers.